Auckland's Mountain Biking Home Turf
We boast over 100km of purpose-built single track, loaded with over 250 man-made features and 4 Disc Golf Courses.

We're just 40 minutes from downtown Auckland, have over 100 hire bikes, an on-site mechanic service, pro-shop and cafe...AND
...AND WE ARE OPEN ALL YEAR ROUND, NO SNOW, NO HEATWAVES, JUST PERFECT
October 30, 2014
FOR IMMEDIATE RELEASE:
It comes with great pleasure and excitement to announce that The Woodhill MTB Park's long term future has been confirmed. Bike Parks Ltd, the management company responsible for operating the Woodhill MTB Park signed a new agreement earlier this month with the new restored land owners of the Woodhill Forest Nga Maunga Whakahii o Kaipara (NMWOK).
Securing the continuation and future of the Woodhill MTB Park has been a long process which started many years ago when the land ownership was still under crown control . With the land ownership changing from Crown to the NMWOK officially in 2013 the direction of the NZ's busiest Mountain Bike Park and other recreational operations within Woodhill Forest was not certain. We have been working closely with NMWOK to ensure the mountain bike park was represented in the strongest way demonstrating the importance of its long term existence. The commercial board of NMWOK Development Trust has acknowledged this importance of maintaining one of Auckland's greatest recreational destinations in providing us with a long term future.
We are excited to announce as part of this new agreement we have been able to secure a new area of excellent age trees to develop a new trail network.  This area will provide new challenges and awesome riding terrain for our riding community.  This has been the most important part of our new agreement and will combat the issues surrounding the ongoing harvesting operations within our existing network.  The current remaining trails will still be in operation until they are harvested in 2016/17, however our development focus will lie in our new area. Additionally we are happy that our car park and base area will remain in its current location for the foreseeable future. As part of this we would like to thank all of our riders for your patience and understanding throughout the harvesting operations to date and while we have been working through these uncertain times.
As with most new ventures and ownership transfers, there are changes on the immediate horizon. Most notably the land is now under complete private ownership. In the past under crown ownership there was a public entitlement in terms of foot access onto the land. This is no longer the case and it must be treated and respected like any other land under private ownership.  The main changes you will see in the short term is the implementation of a new pricing structure to provide an entry user levy contribution to NMWOK. This will be collected as part of our entry day passes and annual registrations. From the 1st November this will be an extra $1 on day passes and $20 on annual registrations, concession cards will also be amended accordingly. We will also be adding a small development contribution to our registration to help with the new trail development cost. However we feel our registrations fees will still represent exceptional value.  As part of this NMWOK will provide a brief survey to complete on entry. NMWOK will use the revenue generated from the entry user levy to fund ongoing routine maintenance of common areas, access ways and security, amenities and coordinate user activities, within the forest area.  Secondly and later in the year we will be coordinating the gate opening and closing times and manning at all times throughout opening hours. Up until now a security company has been responsible for the opening and closing of gates and have been somewhat flexible with timing.  This will no longer be the case, and strict times will be adhered to.  We will be revising the current opening and closing times and will advise on these times as soon as possible.
We would like to note that throughout the last 12 years the mountain bike park has had no external funding or support from councils, charities, grants or suchlike as many other riding areas in NZ. This will still be the case going forward. We have had fantastic support from our commercial sponsors over these years and would like to thank them for their continued support. We are relying heavily on all of our revenue streams for the huge development plans we have ahead, and while we know these changes may not be looked upon favourably by everyone, we need your support and understanding as we push forward and build an awesome new mountain bike park over the next 3 years.
We are looking at these changes very positively and would like to thank the members of Nga Maunga Whakahii o Kaipara for providing their land for the ongoing use for mountain biking.  We now have the long term future we have required for years, thanks to the understanding of NMWOK.  We ask that our riding community embrace the changes for a better long term future of mountain biking at Woodhill MTB Park.
NMWOK have set up a new website which they will continue to develop providing excellent information regarding the Woodhill Forest, activities therein, notices about any current access restrictions or warnings, it's history and many details surrounding ownership and history.
Please check it out at: www.woodhillforest.co.nz
From all of the crew we thank you for your continued support and we are certain that the existing and new Woodhill MTB Park will stand up to your expectations.
Cheers
The Woodhill Team
August 27, 2014
PRESS RELEASE:
The decision has been made by Hancock Forestry Management, that storm damage in the Big Mumma Block is too extensive for the remaining trees to be left standing without creating an even more unsafe area.   Despite our negotiating to the contrary, we were not able to change that decision.  We completely understand and anyone who has seen the damage would find it hard to attest otherwise.  
The trails affected are the Big Mumma Trail, Ho Chi Min and Lil Mumma (AKA To Carpark Hard).  The trails will be completely unrecognisable afterwards and we have no immediate plans to rebuild in this area until trees have been replanted and have seen a few years of growth.
On a positive note we will be able to rebuild the adjacent sections of Treasure Island and Afterglow Stage 1 very shortly as the harvesting crew will clear those damaged sections for us.  Afterglow will start next Monday and we expect to have that reopen for the following weekend.  
In regards to future development we have been negotiating very exciting new terrain and a long term future with the new land owners Nga Maunga Whakahii o Kaipara for the last 18 months. We expect to make official announcements in the next 6 weeks.  
We would like to acknowledge Laurie "Truck" Cartright for his efforts in initially building the Big Mumma trail back in the early 2000's when he worked for Bike Parks.  Due to its constant popularity Haydz and the trail crew have tirelessly maintained and improved many parts of the trail and structures over the last 10 years ensuring the trail held up and was fun to ride safely year round.  Additionally we would like to thank Gavin Purdy for assisting the park in gaining local council consents for structures over a meter high, this resulted in Gavin designing and rebuilding a number of the 5X structures located in the Big Mumma block in the mid 2000's.     
Whilst we are losing a somewhat historical Woodhill Mountain Bike Park trail and one of the first trails in the network we can only suggest that this is a start of a new era for the park and the Mountain Biking community.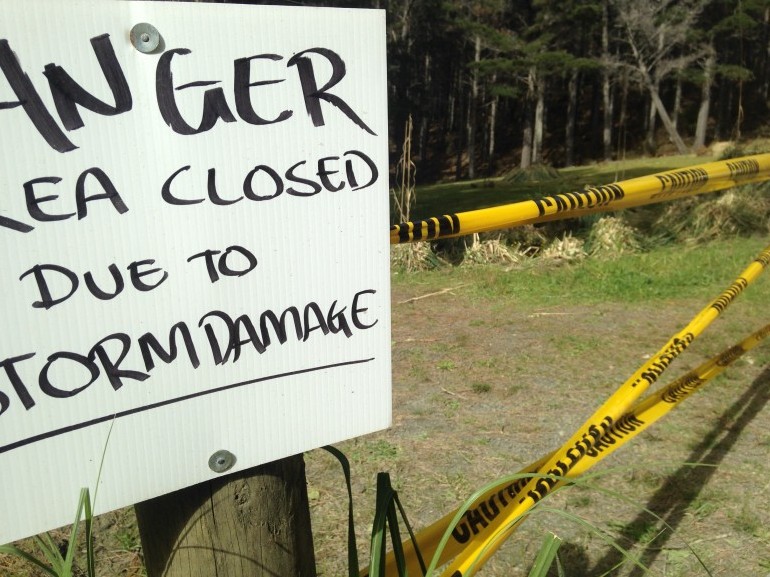 August 15, 2014
Progress!! We started the first stages of the machine assisted Storm Clean up today and had our first meeting with an actual forest crew after weeks of the diplomatic and corporate part of an "Operating" Forest .. The crew have a better understanding of exactly what parts of our trail network we need to get [...]
July 13, 2014
Well we have good news. We are open! Thank you to the volunteers who helped with the final piece of a fun and complex puzzle we managed to solve.. at least for now anyway.   As you'll see when you ride it's not as simple as 3 days and its done..we still have some working [...]
July 9, 2014
PARK UPDATE: FRIDAY UPDATE: Ok…soooooooo here's the latest.. While the powers that be in the forest, planned to plan for their planning meeting (next week) to get together a plan we realised that by then most of you would be going insane not getting your floooow on… so the damn fine bunch of Woodhill's paid [...]
May 5, 2014
New styles and colours, same old good hoodies.  $89 or $69 if you have a valid Park Membership.
April 1, 2013
UPDATE:  TREE FELLING HAS FINISHED!  There still remains a few dangers however so please stay on the clearly marked trails. We will rebuild sections as soon as we can.  The areas we have already reopened are: Click Here for the new maps – 4wd track (now mostly single track) from the top of the first [...]
January 14, 2013
We finished a new trail last November and here is a little video run down of what it's all about. No Vacancy Trail with Commentary
November 21, 2012
On Sunday we had the 2013 Product Launch.  The guys from bikeland.co.nz were there with a production crew and got this sweet edit.  Keep watching for more individual bike brand edits coming soon.   Video is here on our site and full story is over on bikeland.co.nz
November 29, 2011
We always have a trained medic and emergency response vehicle onsite during shop open hours.  Please add the following number to your phone contacts.  0272 780969. After an incident on the weekend whereby it took an extra 15 minutes for our emergency response to be sent and even longer for the ambulance to be called. [...]